The Division of Vocational Rehabilitation assists people with disabilities to succeed at work and live independently. We believe that anyone with a disability who wants to work, can work, regardless of the type or severity of their disability. We work closely with a variety of partners and stakeholders, including our vendors, employers, state and federal agencies, Workforce Centers and Centers for Independent Living. DVR uses public funds to provide our services so it is important that this money be used responsibly according to our policy, rules and regulations.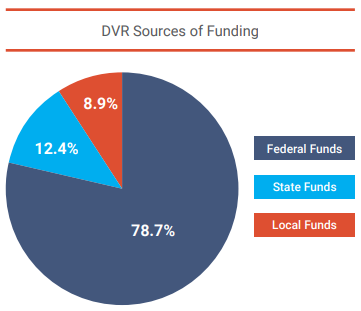 Vision
People with disabilities are essential to a working economy that elevates all of Colorado.
Mission
Working together to promote a thriving employment environment with opportunity for every Coloradan with a disability to live independently and prosper.
DVR Believes
All people with disabilities can choose a career path leading to meaningful employment and independent living. 
Investing in the knowledge, experience and professional development of our staff is integral to the success of our mission. 
We are a resource and partner that empowers people with disabilities to reach their highest potential in alignment with the needs of businesses in our communities. 
Continuously improving our practices through active collaboration with people with disabilities, their families, businesses, and national, state and local organizations is essential to advance our mission. 
DVR Organizational Charts

Blind and Low Vision Services (BLVS)

Region I (includes Colo Spgs, Pueblo, La Junta, Limon, Ft. Morgan, Sterling, Trinidad and Canon City)

Region II (includes Denver Metro, Golden, Aurora, Centennial)

Region III (includes Longmont, Ft. Collins, Greeley, Northglenn)

Region IV (includes Mountain areas, Craig, Alamosa, Grand Junction, Montrose, Delta, Cortez, Durango)