Navigate State Locations and Digital Services More Easily with Aira
Every Coloradan deserves equal access to essential state services. Which is why the State of Colorado is thrilled to offer a new service for blind and low-vision Coloradans by partnering with Aira, an app that provides live, on-demand visual interpreting through human-to-human assistance. 
Coloradans will get free access for up to 30 minutes per session while navigating state locations and websites, reducing barriers to services and creating a more welcoming Colorado for all.  Learn more here.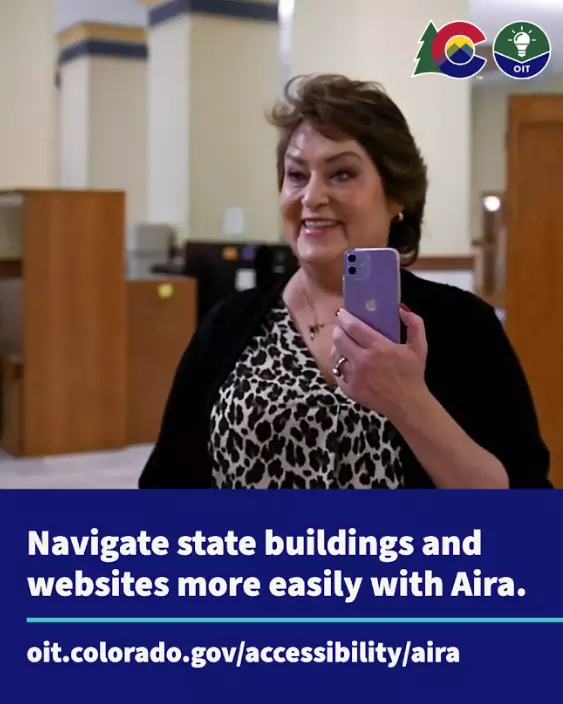 How it works:

Aira is a visual interpreting service that provides live, on-demand access to visual information through human-to-human professional assistance 24 hours a day, 7 days a week, 365 days a year.
Through the Aira app, your smartphone camera streams secure, live video to a professionally trained agent who visually interprets what is shared.

The app is free to download and free to use for up to 30 minutes per session when navigating state locations and digital services.
Get started:
Download the app from your mobile device via the

 

Apple App Store

 or

 

Google Play Store

. 

Open the app and register your phone number.

Click the link in the text message Aira sends, which will log you into the app.

Make a free call to learn how it works.

The next time you're navigating a state-operated location, state web application or state website, make a call of up to 30 minutes through the Aira app.
Disability Hiring Preference Pilot
Beginning March 1, 2022, applicants with disabilities who apply for a job at the Colorado Department of Labor and Employment (CDLE), may be eligible to receive preference in the application process. This preference is similar to the Veterans' Preference currently in place.
The new pilot, implemented as a result of the passage of SB21-095, recognizes that the skills and talents of people with disabilities are often overlooked, resulting in high rates of unemployment, even in state government. That's why the Disability Hiring Preference Pilot Program seeks to create more equitable hiring practices inclusive to people with disabilities.
Press Release Disability Hiring Preference
DVR is open and providing services in a hybrid approach: in person, in the community or remotely.